The Ontario winter wheat crop is variable, but why?
There is no doubt this spring has proven to be one of the toughest for Ontario's winter wheat crop. From severe flooding, heaving and poor emergence last fall, the list of associated attributes affecting the crop is quite extensive and varies field by field. Traveling through multiple counties and assessing many fields over the last few weeks, it is quite evident that not one area or region is perfect.
Unfortunately there is no "one size fits all" answer as to why some fields are staying and some are going. However, where the wheat was planted early, (i.e. mid to late September) there is a definite advantage in root growth and crop staging. This is a huge contributing factor to its survival. In saying that, there are some well established fields that have been challenged with ice or water ponding, resulting in dead areas that have been tough to manage. One thing to note is that the September planted wheat in some areas has reached GS30, while the mid October wheat is around GS21-23.
The most challenging fields have been the ones planted after October 15th, which were a large percentage of the Ontario wheat acres. However, The Wheat Team has been in multiple fields that were planted after October 15th and the wheat is beautiful; but why? The biggest contributing factors in these scenarios are soil type, structure and drainage. Wherever water laid and was not able to drain through the soil profile there is essentially no wheat there. The Wheat Team has come across many fields with "tile run wheat" especially those with a higher clay content.
Some alarming observations that we have come across are poor residue management, shallow planting depth, and low seeding rates. Over the last number of years soybean yields have been tremendous which is great, but this has created a whole new set of challenges in establishing no-till wheat in 60, 70 and even 80 bushel soybean residue. Well tuned combines and drills are key to successfully no-tilling wheat in the fall. It really shows that drills with sharp blades that measure to spec do a much better job cutting and placing the seed at proper depth rather than riding on top of the residue, hair-pinning and not maintaining good depth control. See the picture below where the seeds are just below the residue and not in the soil. These seedlings are only hanging on by a few little roots.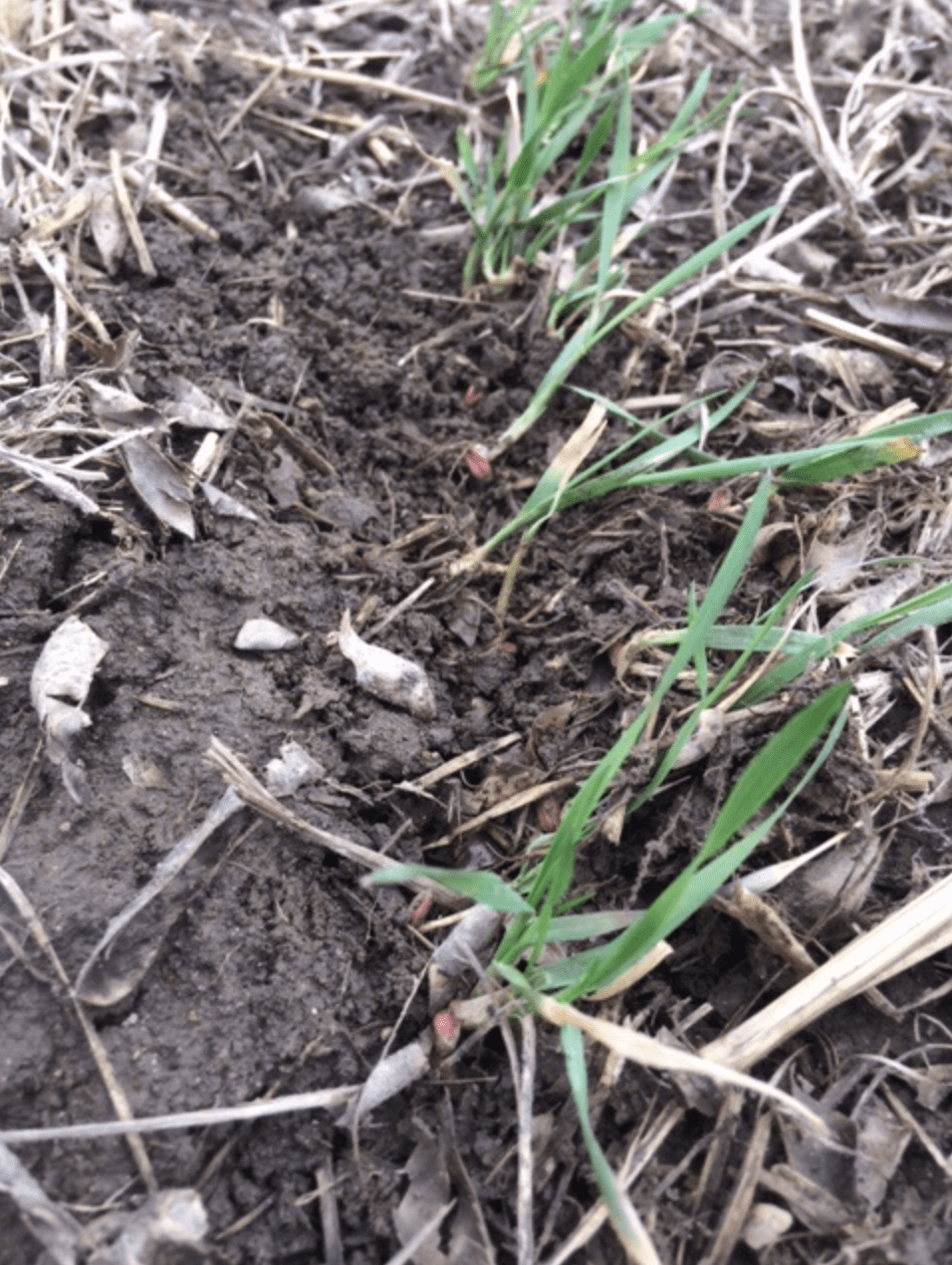 In fields where planting depth was reduced in order for the wheat to "get out of the ground quicker", The Wheat Team is coming across lots of frost heaving. This is more evident on soils with a higher clay content, see photo below.
Another issue we have come across is the lack of seeds per foot of row in some fields. As we have mentioned before, it is crucial to increase seeding rates as we move later into fall in order to account for lack of tillering. Increasing rates will help ensure we end up with an adequate stand containing 450-600 heads per square yard. This spring having a stand with at least 10 plants per foot of row that are healthy and evenly distributed is one of the determining factors of keeping or terminating.
A common message The Wheat Team has been hearing is that growers who are looking to make wheat part of their crop rotation in 2020 are looking for earlier season soybeans or some other type of early season crop to ensure the wheat gets planted in September. YES! This is one of the best management strategies growers can do to set themselves up for success.